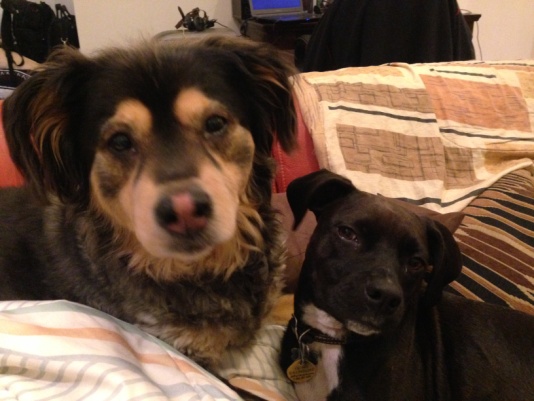 Meet Onyxia and Fey, our featured pets for July! Here's the touching tale of how Onyxia found her family.
I Was Rescued by a Dragon
In June of 2014, I was diagnosed with Stage 1 lung cancer. I had already been through breast cancer, so I had a good idea of what was coming. Doctoral reassurances that Stage 1 is highly curable didn't change the fact that I would need a lot of positive attitude, and would be spending a lot of time at home for a while.
My first furry daughter, Fey, was getting up in years and needed a companion to keep her young. Who better to keep you laughing than a puppy! I knew I needed a dog that was smaller in stature than Fey's 60 pounds and did not want a new born puppy. So, the shelter hopping began. On July 3, 2014, Fey and David and I brought home a 25 pound bundle of wag. David and I both play World of Warcraft. So, we asked the WoW community on Facebook to name our puppy. We settled on Onyxia (Nyxie), a leader of the Black Dragon Fleet.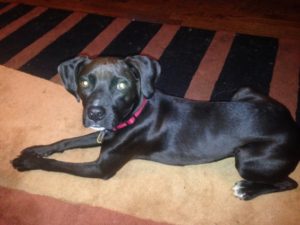 Nyxie was born in a shelter in Valdosta, GA and almost immediately adopted. Later, she was turned in at a shelter in La Grange, GA. Her humans had moved and could not keep her. She was adopted again, and sadly turned in again at the Atlanta Humane Society with the same excuse. She was 8 months old. She is a loving soul with a little bit of an anxiety issue when she's left alone. But, she's perfectly happy to wait for you in her crate. She can wag so hard and wide when you come home that she can whip herself!
Nyxie loves toys and is a great squirrel chaser. But, her most astounding trait is her speed. She can move so fast, it's hard to keep your eye on her! She makes Fey run every day, which is doing the ole gal a lot of good. Her humans wish they had time to take her to agility training.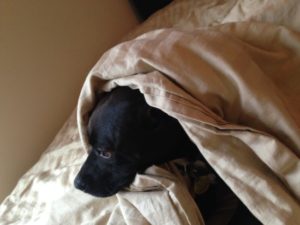 When going to sleep, Nyxie thinks it's best to have a pillow and be curled up inside a blanket. So, when the pack retires to the den each night, she curls up under the blankets at the foot of the bed and keeps daddy's feet warm.
Now, it's a year later. Nyxie and her antics have kept me laughing through surgery, chemotherapy and a whole lot of brain clouds. She has the wizened eyes of a wizard (her Staffordshire heritage) and lets you know that whatever is on your mind can't be as important as the next squirrel in the back yard. We love her and she loves us all back…
The End.
By Marjan, mom to Onyxia and Fey