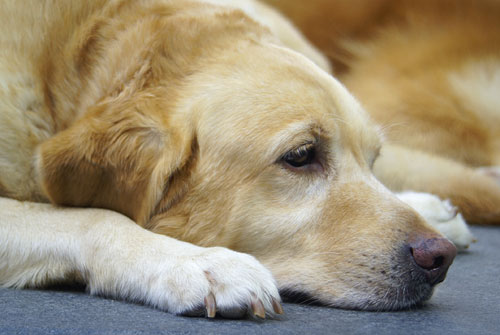 As you may know, there have recently been several confirmed cases of canine influenza in the Atlanta area. In the past week, we have seen several patients here at East Atlanta Animal Clinic with upper respiratory signs. So far, there is one confirmed case of H3N2 (the new canine influenza strain). We have continued to treat patients with upper respiratory signs and more pets may be positive for canine influenza.
EAAC has implemented protocols to prevent transmission of this highly contagious disease. To keep your pets safe, we are not admitting healthy pets as drop-offs until further notice. We also have created separate entrances for healthy and sick pets. Please look for the sign on the door to indicate the proper entrance. In addition, please call ahead if you are bringing in a sick dog.
Here are some important facts about canine influenza that you should know:
Canine influenza causes upper respiratory signs similar to kennel cough: coughing, sneezing, nasal and/or eye discharge, lethargy, loss of appetite and fever. In severe cases, canine influenza can lead to pneumonia and very high fever.
Canine influenza is highly contagious to other dogs. Infection occurs via direct contact with the aerosolized respiratory secretions (coughing and sneezing) of infected dogs or by contact with contaminated objects.
The H3N2 virus can live on surfaces for up to 48 hours, on clothing up to 24 hours, and on hands for up to 12 hours.
After exposure, it can take 2 to 4 days for signs to appear.  A small number of dogs with canine influenza will not have symptoms.
The best way to protect your pets is to avoid exposure to pets outside of your household. Avoid dog parks, doggie daycare, boarding facilities, and any other place where dogs congregate.
If you think your pet has been exposed to canine influenza, he should be quarantined for a minimum of 14 days, even if no clinical signs appear.
The H3N2 canine influenza virus has been known to affect cats, though here have been no confirmed cases in the US.
To date, the H3N2 virus is not transmissible to humans. However, humans can pass the virus from one dog to another.
If your dog has canine influenza:
Pets with confirmed or suspected canine influenza should be quarantined in your home for 14 days (starting with the first clinical signs). Pets from the same household can stay together, but all pets should remain indoors. Additional pets should not be brought into the home.
Most dogs with canine influenza recover within 10-21 days. The isolation period should continue until 48 hours after symptoms subside.
Common household disinfectants can be used to decontaminate surfaces and objects. Clothing and bedding can be washed as usual. Wash your hands frequently with normal soap and water to prevent the spread of virus particles.
You can learn more about canine influenza on the following web pages:
If you have questions about your pet, or suspect your pet is sick, please contact us at 404-523-8765.